A hugely enjoyable 3 days of Winter Skills Training in the Nevis area, Fort William Scotland from 1st – 5th March 2020.

Our trainer, Alan Ward, International Mountain Leader from Bigfoot Services Limited offered his instruction free of charge so a massive thank you to Alan for your time and exceptional effort keeping us all safe on this course.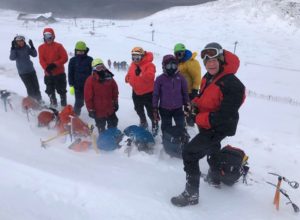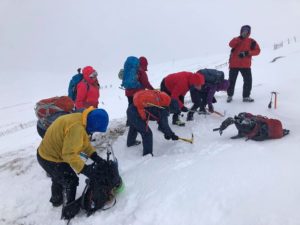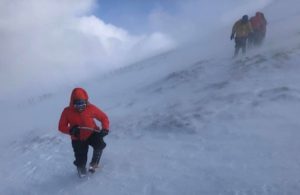 Course Programme:
Monday 2nd:
Alan and 8 participants arrived at Nevis Range Gondola Station for 0930 to take us up to the Adventure Activity Centre (alt. 655m).  The gondola fare is £19.50 for an adult day pass. We purchased our tickets in advance to save time on the day https://nevisrange.skiperformance.com/shop/en/store#/shop/en/buy
The training consisted of kicking steps, digging out a platform, arresting on downward slope (when on your back and head first!), proper use of ice axe and crampons, walking on various types of snow with crampons, understanding the importance of managing equipment in poor conditions (a few items blew away and had to be retrieved or lost!)
Maximum walking distance (approx.): 5km
Maximum height climbed (approx.): 650m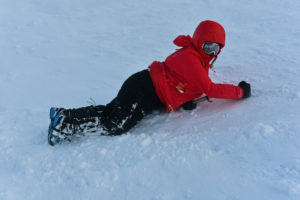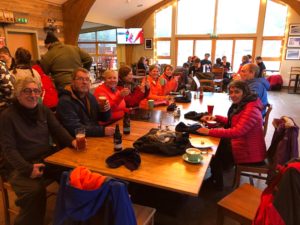 Tuesday 3rd:
We met early for this short but pleasant walk into the upper reaches of Glen Nevis.  A couple from the group were brave enough to cross the river using the wire bridge.
Maximum walking distance (approx.): 4km
Maximum height climbed (approx.): 250m
Wednesday 4th:
Early rendezvous in the Ben Nevis Visitor Centre Car Park to start on a long mountain day. Conditions were challenging, thick snow on top, poor visibility and all tracks covered so only two members of the group went for the summit.  Everyone did a fabulous job but some were disappointed not to have made the attempt and it was especially disappointing for the two 'summiteers' (Paul and Sian) as they had to make a decision to turn around 500m in distance from the summit.  This was exactly the right decision as they wanted off the mountain before the light dropped (early in Scotland at that time of year).  Huge congratulations to everyone concerned!
Maximum walking distance (approx.): 16km
Maximum height climbed (approx.): 1,350m
Our WINTER EQUIPMENT List:
Ice-axe with leash and protector – length of ice-axe is a personal choice but recommend short (50cm) and straight.
Helmet – an example of a suitable helmet would be Black Diamond Half Dome. There is a model for both men and women.
Crampons with appropriate boots – crampon compatibility with boots is essential.  Boots for winter activities are generally stiffer and better insulated than boots most of us wear for most of the year and fabric boots generally don't offer what we need.
Headtorch.
A rucksack with sufficient capacity to carry all of the required winter equipment and plenty of warm clothing, food and drink. The rucksack should ideally have ice axe loops for securing the ice axe to the rucksack. Ice-axes and walking poles should be properly attached to rucksacks if not being used.
Sunglasses or goggles suitable for winter conditions – note that Category 4 sunglasses cannot be used whilst driving. Sunglasses of a wrap-around style are best for winter activities.
Survival bag.
Insulated jacket.
Windproof and waterproof gloves/mitts and spares. Mittens are more restrictive when using ice-axes.
Prevention of sun burn – it's recommended to take a high factor sun cream and a lip balm which can also help prevent sore lips.
NOTES:
Walking poles are a personal preference.
High energy trail food, hot drinks as well as water but note that hydration systems often freeze up above the snow-line.
Gaiters can be essential in soft snow conditions.
Wear older waterproofs during ice-axe training as you may damage you new clothing.
Waterproof liners for rucksacks are essential.
We carried two medium-sized group shelters
Clothing: it's important to be able to adjust layers of clothing during winter activities. For example, fewer layers might be needed for uphill sections but on reaching higher and more exposed ground then having additional layers to put on is essential.