Your Hosts
Freedom Days, in conjunction with our people development partners, Liberate HR Limited, combine the theory of team working and leadership development with practical, participative and fun events.
Liberate HR Limited are specialists in transforming organisations through their people.
Fellows of:
Chartered Institute of Personnel and Development (FCIPD)
Institute of Leadership and Management (FInstLM)
Our Events
For all your corporate events, whether it's annual away-days, a team motivational treat, or a development opportunity, we will design an engaging event to suit your exact requirements and group abilities.  We guarantee an experience to be remembered.
In association with our partners, Freedom Days Corporate Events include: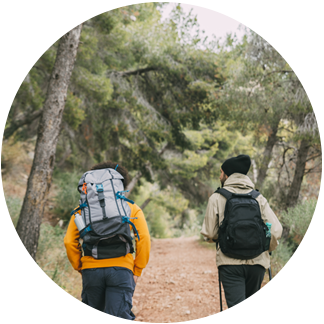 Walking / Trekking
Walking is as important for mental health as it is for physical health. Whether you choose a walking or trekking event for team building or team wellbeing, we promise to take you to some stunning places and to reach places that you never thought your abilities could take you to.
We can design a walking / trekking event for your preferred location and duration but we're very happy to offer some suggestions based on our experience of UK routes and / or overseas expeditions.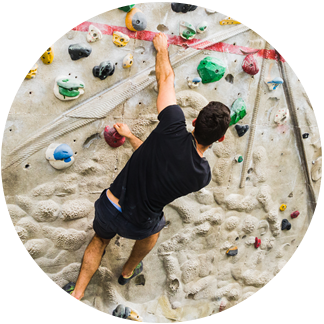 Rock / Indoor Climbing
In conjunction with our associates, we bring to you a wide range of climbing events that range from beginners to advanced skills.
Our experienced instructors can help develop you in any way you need, from your first steps on rock to movement coaching, from learning to lead, to pushing your grade.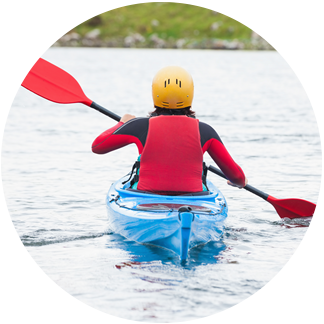 Canoeing / Kayaking
Freedom Days offer a variety of canoeing experiences that are fun, safe, exciting and challenging to suit all ages and experience.
An appropriate and exciting canoe trip, in either open canoe (two person) or kayak (one person), can be individually tailored to best suit your group.
The Brecon Beacons and surrounding area offer a wide variety of venues for canoeing – canal, reservoir, lake or river set in picturesque locations.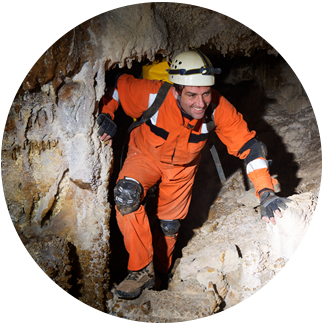 Caving
Explore the hidden world beneath us in one of the most popular caving areas in the UK.
Our guide will lead you through the challenges found underground and show you a whole world hidden from view. You'll be kitted out in an over suit, boots and helmet with a lamp, and then you will be guided through a maze of passages.
Caves offer a real adventure and are filled with both beautiful features and challenging obstacles. This makes a great dynamic day out for any group large or small. You'll just need old clothes to go underground, a change for when you're done and dirty, and a sense of adventure!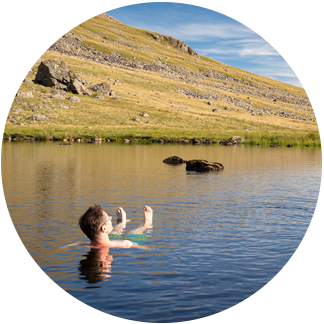 Wild Swimming
As well as being fun, outdoor swimming has been shown to have both physical and mental health benefits.
We will take you to swim spots where you can enjoy breath-taking views.
Our wild swims are usually combined with either our walking / trekking and wild camping events but can equally be planned for more accessible locations.
Some very useful hints and tips can be found here: Wild Swimming in Britain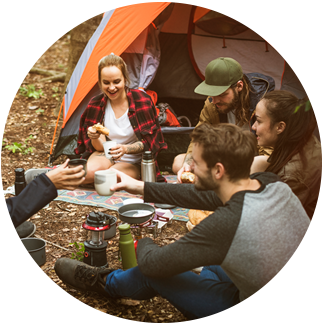 Wild Camping
Wild camping offers the perfect escape. Leave the crowds and the noise behind, reconnect with nature and discover your very own private spot.
There are, of course, sacrifices to be made. Expect to leave the creature comforts behind. The wild camper will need to carry all their food, fuel and water with them (or the means to purify water). They'll need to forego some hygiene routines, live without gadgets at times and brave inclement weather without the reassuring presence of a back-up bothy.
But, the rewards will be incredible. For some, the extreme back-to-basics approach holds an appeal no other 'getaway' can match.
No better way to learn teamwork or leadership, we think.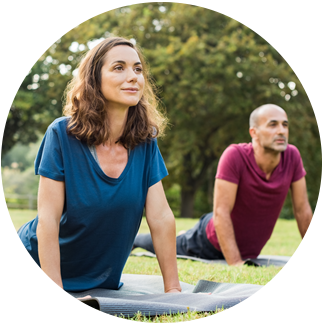 Yoga and Walking
Hatha Yoga encourages awareness of breath and body for complete health, awareness and wellbeing. When practiced regularly, this mindfulness of ourselves permeates into our daily lives; we become more self aware, balanced, and able to make healthy decisions.
To practice outdoors as part of a leisurely walk in stunning natural surroundings, in forests, by waterfalls, at the beach, for example, enhances your overall wellbeing.
To fully identify your needs and wants in designing your event
To deliver above your expectations by demonstrating value for money and time invested.
To leave you with a memory that you will talk about for years to come!
If you would like to discuss how we can make your special team day a success or have any specific requests, contact us on 07760 665488 or email: admin@freedom-days.co.uk to discuss your requirements.